Handmade Tile Association Newsletter
S P O T L I G H T E D   several of our Tile Artist.  
This month Dean Tile & Design, Status Tile, Red Step Tile, Tile Restoration Center are featured.  View full article at:   www.handmadetileassociation.org  
Carol Dean
South Whidbey Island, Washington
 Dean Tile Studio specializes in the creation of unusual handmade tile, mirror frames, and sinks.We design bathroom, kitchen, fireplaces, floors, wall murals, fountains, and any other type of tile installation.We are licensed and bonded tile contractors.
Carol has 18 years of construction experience, including 8 years working as designer/General Contractor/Builders in Seattle.  The studio, which is located on South Whidbey island, is open 5 days a week. 
Visit Us. We are available to work on Whidbey Island, and the Seattle Metro area. 
Red Step Tile
Paula Gill
All these tiles are made in my Bremerton, Washington studio, which overlooks my garden of perennial and vegetable beds and a sloping bank planted with Pacific Northwest natives. I find the antics of the resident songbirds, northern flickers, owls, squirrels and mountain beavers both charming and challenging, but ultimately inspiring on a daily basis. I love being outside and tending the garden with my hands in the soil; I guess it comes as no surprise that I have discovered a way to keep my hands in the soil through my work. My tiles are my way of sharing this joy of being in nature with others.
With a background in graphic design, printmaking and watercolor painting, I started exploring the world of tilemaking in 1997 and haven't looked back since. Through continual experimentation I have been able to create a wide range of tiles with only terracotta and white clays, underglaze color pigments and a clear finish glaze.
My technique with woodcarving tools, directly influenced by woodblock and linoleum printmaking, give the work a unique style and add unrivaled depth, texture and liveliness not replicated by other tile making methods. In all, it is a thirty step process, all by hand (no molds are used), that takes from six to eight weeks to complete.
Contact information:
Status Ceramics was founded in the summer of 1986 on Bainbridge Island, Washington, not far from our current location in Seattle.  As a former serigraph printer, potter and leaded glass worker, Richard Scott was drawn to custom ceramic tile as a medium for enduring artistic expression.
The primary inspiration was the American Art Tile movement: Batchelder and Grueby; Pewabic Pottery and other turn of the century art tile studios. At a time when mass produced tile was flooding the market, he was reverting to the techniques of the American Art Tile pioneers. Their handcrafted techniques in glazing, molding, and firing required patience and craftsmanship but produced one of a kind works of art. It turned out Richard was not alone in exploring handcrafted techniques. Status Ceramics was just one of dozens of art tile studios, such as Motawi Tile, Pratt and Larson, California Potteries and Clay Squared, that were popping up around the country. The result was a renaissance in American Art Tile.
We are developing a new line of Velvet glazes, the name says it all, along with new designs. Both will be featured in Atlanta, Covering 2013, Georgia World Congress Center, April 29th through May 2nd.
Contact Info  
5840 Airport Way S. #213
Seattle, WA 98103 –
(p) 206.282.0181
Steve Moon
Portland, Oregon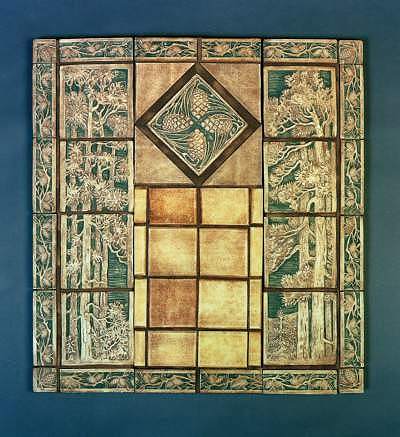 Tile Restoration Center is a small tile company recently moved to Portland, Oregon dedicated to producing historically accurate reproductions of American Arts & Crafts tile makers such as Ernest Batchelder and Claycraft.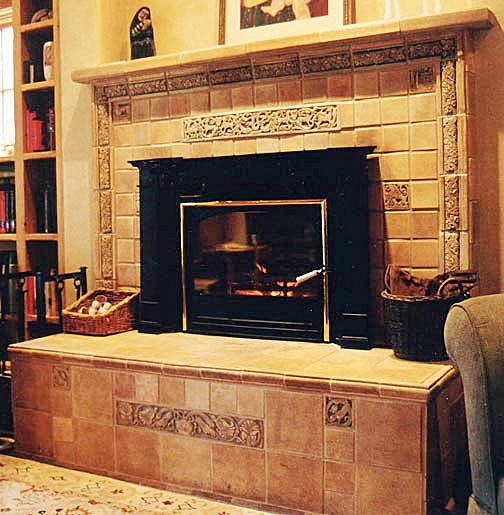 We have also created dozens of new designs in the Arts & Crafts style to complement those historical images that we faithfully reproduce. We pride ourselves on the amount of care and hand work that goes into each and every tile we make, not just for looks, but in the dignified and creative spirit of the early twentieth century.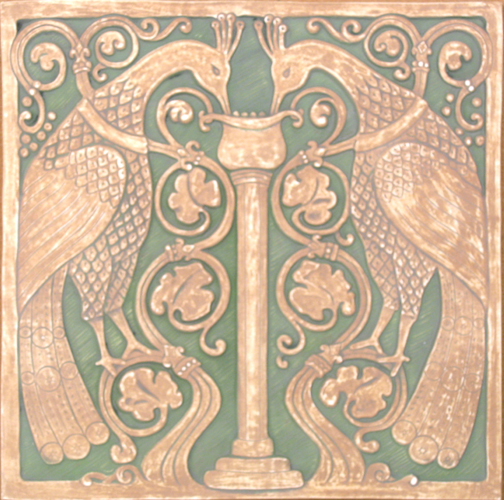 TILE RESTORATION CENTER
9954 N Vancouver Way
Portland, Oregon 97217
ph: (206) 633-4866
fax: (206) 633-3489
trc@tilerestorationcenter.com
www.tilerestorationcenter.com